Notice of solo exhibition
A solo show will be held in Tokyo from November 27th.
In addition to new works, we will also sell a limited number of high-definition prints.
If you are interested, please contact the gallery.
Fuco Ueda solo show
[MAEBURE]
November 27th-December 15th, 2021
11:00 am to 7:00 pm
Closed on Mondays and public holidays
KIYOSHI Art space
www.kiyoshiart.com
info@kiyoshi-art.net
Contact the gallery for paintings and high-definition prints.
I'll keep you posted on Instagram or Twitter about my stay in the gallery.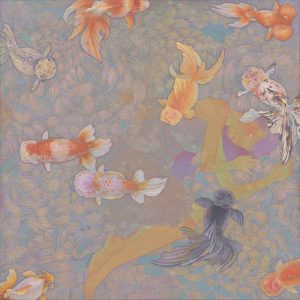 "Fuco Ueda, born in 1979 in Tochigi prefecture. She completed graduate school at Tokyo Polytechnic University in 2003. In 2000, she was selected for the "Hitotsubo Exhibition", in 2001 she received the JACA Special Award, and in 2004 she exhibited at the VOCA Exhibition. Started energetic activities and continues to the present.
Fuco Ueda draws a daydream-like scene that mixes reality and fantasy that a girl experiences with unique colors and color schemes. When the joy of being at the mercy of the flood of images and being able to approach a place that is nowhere else, the work depicted with personal feelings, on the other hand, is a reality for people of the same age who live in modern times and are saturated with substances and information. Creates empathy as a mirror. Large chrysanthemums with bloated petals that have been repeatedly bred to make them more beautiful, and goldfish that require conscious maintenance to maintain the varieties. Those that have been improved. This exhibition consists of new works and recent works created based on Fuco Ueda's interest in artificial beauty and desires. "Because you can see the fundamental desires of human beings, which is similar to the image of a woman who has been superimposed on the ideal" beauty "in art expression from ancient times. As a being that cannot grow naturally without the hands of others, her skill in her is more and more accentuated by "beauty". "Ueda said so.
People always do not doubt the position of the viewer of "beauty", but is it possible to reverse the boundaries of that position? We hope that you will take a look at the works of Fuco Ueda, who continues to explore the possibilities of expression while embracing such desires. 』